Being a Mommy, a " Stay at home " one to be more specific, can be a bit challenging.
I can only speak from this specific position because I've never been a " Working " one! Those of you who do it, my hat goes off to you. Although, I've heard that it is can work in your favor since its kind of a " escape. " There are days I'm tempted to go back to work to do exactly that! Escape!
Everyday can get very, routine.
Routine can be good, but only if its a healthy one. By that I mean, not staying in your pajamas ALL day EVERY day!
Seeing your "stay at home Mommy " job as a " Real " job. Because it is.
You may not have a real life boss demanding deadlines and a time clock you check in and out of... but, its still a job.
I came across a book ( thank you sister-in-law! ) that is specially named "Steady Days."
After reading it, I learned the name is so - well, ... fitting!
We want our days to be " Steady."
To be, ... not insane!
An argument that seems to constantly surface between Paul and I is that sometimes I feel suffocated.
Suffocated by the day to day diaper changes, breakfast, lunch, dinner, ... laundry, grocery shopping, pick up blocks, trucks, and cars..
Gee, have I even eaten today? .. routine.
And, you ( Paul ) get to go to work. With adults.
You ( Paul ) get to have real grown up conversations.
I find myself putting ie's at the end of everything.
Like instead of saying just " ouch" I say " OUCH - IE! "
Totally expected since my everyday company includes a three and one year old!
" Steady Days."
To see your house, as YOUR HOUSE.
You are the manager of it. You are the boss. The big kahuna. The head honcho!
My mind is scattered if I'm not organized. I have to see it on paper. Bullet points.
Thats what I did. I wrote out a weekly schedule, wrote my cleaning routine down, and made my way into making my days "Steady!"
Pinned perfectly where pictures of our life circle around it, simply reminds
me this why I need my days to be "Steady."
I need to be sane! For me, for my husband, for my babies, for my friends!
If you aren't happy, how can you make those that surround you happy?
On days that I think " the office really needs to be dusted, but the kids toys need to be cleaned, and so does the refrigerator, " and it can go on and on! I have a day that I clean. But on that day, I "deep clean " specific areas. I know that the next Monday, the next area will be dusted, oiled, and bleached!
Let me tell you. Its worked for me. It has definitely made my days a little less chaotic. A little more organized, and a bit more fun. When you have a list of things in your head of what needs to get done, its really easy to forget that you have two little ones who know nothing about dishes, laundry, and lunches. Its being able to sit on the floor and do puzzles. Its racing cars. Its learning numbers and ABC's. All while the dishwasher is going, and the dryer is drying your last load of clothes, and dinner is cooking in the oven!
Steady!
Steady Days!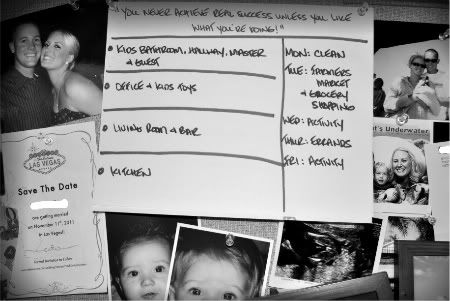 Visit the author and learn more about her book at -
http://www.steadymom.com/