Advertising has officially begun. If you haven't noticed, there are ads on my side bar and at the bottom.
Some may see this as, ---not a good thing. Others may disagree.
These people advertising their companies/products think I have enough traffic on this blog of mine.. enough people seeing my blog that will see their products or companies, so they pay me for a little tiny space on my space! I have taken it as a compliment. So, Thank You!
I've also been advised that I should copyright this blog of mine, and put my name on pictures so creeps don't steal my photos. Although its hard for me to believe that someone would steal a photo of shovels, muddy baby booties, and me walking on the beach with my baby, apparently it happens.. sad! But, again.. I have taken it as a compliment that I have to put my name..
my name
on the pictures you see on my blog.
I'm blushing!
I'm also in the works for some pretty awesome give-aways that I'm REALLY excited about!
So, on to some
little things
we've done this week.
Cole has a
amazing
imagination. I'm sure its not any different then any other three year old, but because his imagination belongs to him, me being his Mama, naturally thinks its "amazing!"
He believes that if he is under a table, he becomes invisible.
"Baby, being under our really big dining room table gives you better chances of Mama not catching you eating cookies in the morning. The yellow table, ....its not in your favor! "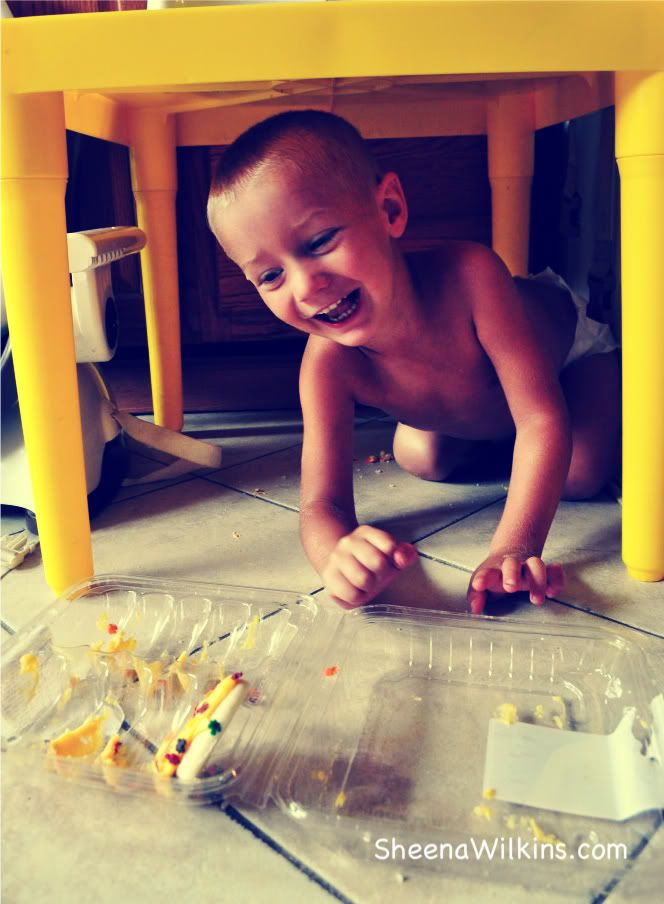 ***I have a tendency to have a really great idea, start it, and not follow through with it.
My sister-in-law made Cole this awesome fleece no- sew blanket that he loves.
So I told her I wanted to make a couple for our couch.
A trip to Michaels, ( a local craft/fabric store ) hours spent picking out fabric, choosing some awesome brick red fleece, about $60 dollars later.. the fabric sits in the closet that is behind me! Its exactly the same way as when I bought it.. several months ago.
I thought that our yard needed some color. When spring came I told our gardeners to dig up some of the grass so the kids and I could plant some flowers. - This was back in March, ..sometime!
I'm now really curious about Quilting. I've always loved quilts. The way they feel and smell. They scream comfort and usually have a pretty good story. While I was standing in line at Target this week, I saw "All American Quilting" magazine. I bought it.
A couple days ago, while the kids napped, I drank my iced coffee.. watched the 1pm showing of Friends. (Greatest show ever by the way!) I remembered I had that magazine, so I decided I would flip through it. I instantly fell in love. I called Paul right away with some pretty cool ideas, and thought he would be pretty excited his housewife/stay at home Mommy wanting to add "sewing/quilt maker person" to her resume!
His response?
" Why don't you get to those no-sew blankets sitting in the closet. Or plant the flowers in the front yard?"
Totally deserved.
Sorry future quilt I want sitting on my couch one day. ( and I see it clearly. Patches of red, oranges, flowers, and maybe a little bit of blue! ) You must wait! I have flowers to plant and blankets to get to!
So, we gardened.
We planted the prettiest little pink and white flowers in the dirt that has been exposed to the sun and air for many, many months. Justifying having the gardeners dig up perfect green grass, and letting it sit there for as long as I did, I told Paul the dirt needed to 'breath' before I planted anything there. Letting it breath for 6 months, these flowers should thrive =)
Our gardening adventure soon turned into a couple of muddy babies ....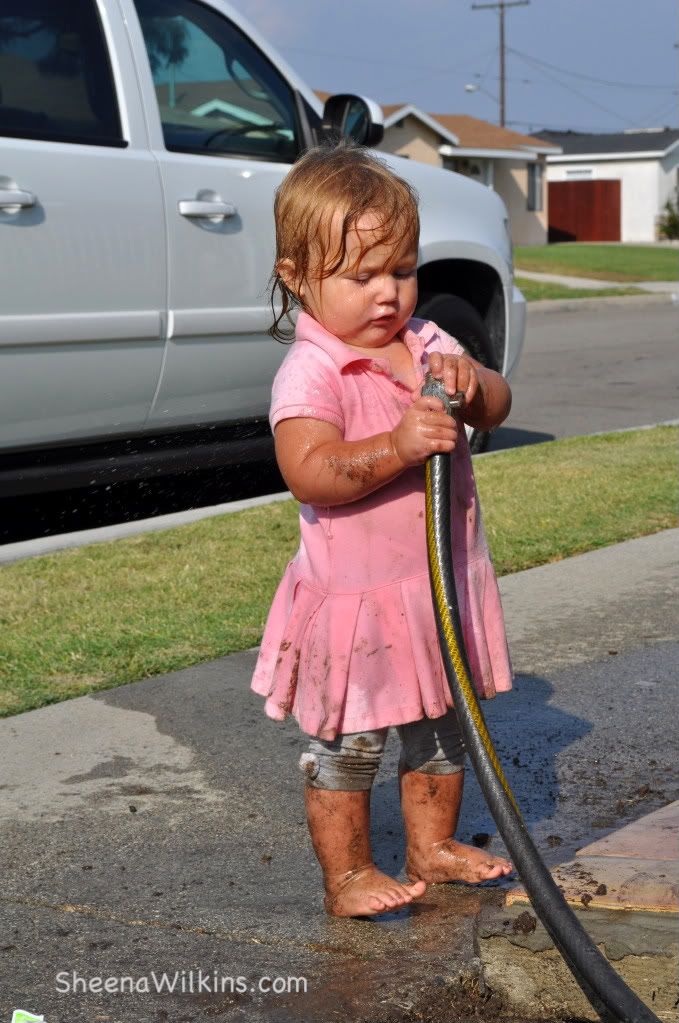 who fought over the hose!
Within minutes the front yard was turned upside down with shovels, plastic containers holding flowers that were anxiously waiting to be put into the ground, and matchbox cars that were brought out to specifically entertain a three old boy who would become bored within seconds of being outside. I must admit, I was wrong there. Making mud pies and finding worms held his attention for longer then I ever expected!....
and it all gave lots of opportunity to take some pretty good pictures =)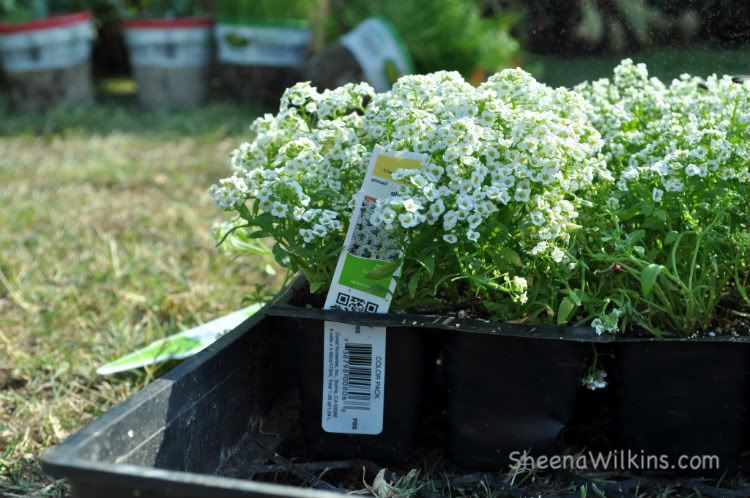 Between being the referee between my two little rascals fighting over who was going to hold the hose, chasing my one year old down the street, and running away from some of the biggest bumble bees, that apparently LOVE my yard...
The job was done.
Well, I still have to do the
other
side of the walkway!
***Paul worked over 70 hours in four days.
So on this Friday morning, waking to Daddy being home was pretty awesome.
Especially since he hadn't seen his girl in three whole days!
Popsicles were on the menu for breakfast, because molars that are breaking through, really really suck!
my poor, poor baby. But, do you notice the very doting Daddy? So sweet!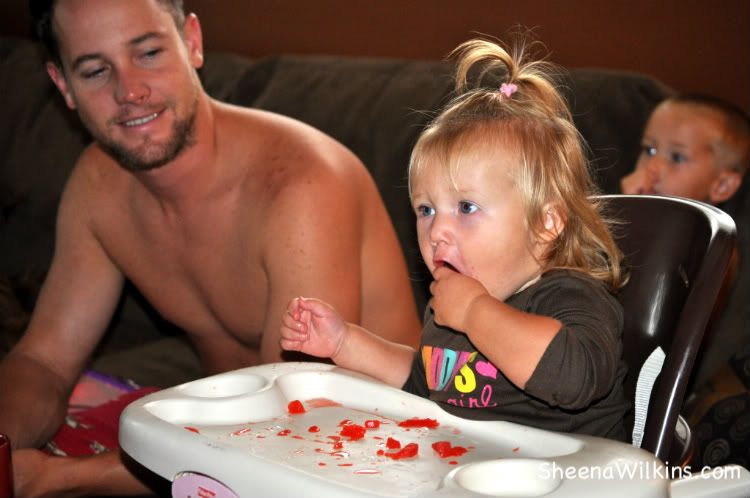 ** I have gotten a lot of emails and messages from some pretty great people. Some of them, I know personally. Others, are readers I've never met. I'd like to Thank you for taking the time to tell me about the
little things
that make your life special. That make your days
great!
And all of your kind words.
( I'm sorry if I haven't responded to you yet, I promise to get back to you! I appreciate all the feedback!) I must say, this blog of mine has really challenged and inspired me throughout my days of laundry, dishes, dirty diapers, going to bed alone because my husband is working late.. again, .. to see all of the
little things
that make my days, extraordinary. Special! Meaningful, and grateful.
So again... from the bottom of my heart, Thank You!
Today! Today on this Friday, we will be home. As a family. In our jammies. All Day!
(Well, besides Daddy picking up Mexican food for lunch.)
Its gloomy here in Southern California, and since we've missed Daddy so much this week, I think we deserve a jammie, movies, and eating burritos - kind of day!
On the menu for dinner? The BBQ chicken that has been marinating in the fridge for over 24 hours. No! I'm not that great. It was truly a accident. It was meant to be cooked lastnight for dinner, but with the gardening and muddy booties - sandwiches and soup were much more appealing on the 'what will be easiest to make for dinner ' scale!
-On another note!
Those of you who are local, I'd like to take your family photo for Christmas.
You choose the location!
I'll meet you there. Promise to bring my camera!
$50 dollars will give you 45 minutes to an hour of picture taking, and a disk of 15-20 ( maybe more! ) edited, awesome photos for you to choose from for your Christmas card, and whatever else you'd like to do with them!! Contact me so we can set up a date =)
**A video for the weekend. Who doesn't love Lady Antebellum? They just released their newest song/video, and I LOVE IT.
"We owned the night." .. Well Lady A, you've done it again!!!
( Don't forget to scroll to the bottom and hit the stop button on my playlist!)
Enjoy your weekend friends!