It happens a couple times a year.
The day my Mom died. Her birthday. My parent's anniversary.
Special days that mark the beauty of the short life she lived here.
I tend to reflect.
Maybe because it reminds me that life is short.
In a blink of an eye your life can be turned upside down.
Between the 30th day of August and the fourth of September always brings me a few days of just that.
****
It was a hot day. August 30th, 2000
Our youngest sister was just over a month old. I had been back from Africa for a little over a month.
I was getting ready to take a test that would allow me to graduate two years early. I wanted to start working towards my AA at a local community college. I can't say I enjoyed school. I was just kinda good at it, and I knew I wanted to be either a nurse or maybe a physical therapist. Dreams, goals. I wanted to be something
great!
I just made a ham sandwich when the phone rang. My Mom answered. After her " Hello " her voice changed and she walked out to the backyard. Somehow I knew something wasn't right.
"An accident? Is he ok? "
-That was the beginning of the rest of our lives being forever changed.
My Dad was a operator, ( the formal title I wouldn't be able to tell you! ) I know his job was pretty important and the kind of work he did entailed big buildings, elevators, hard hats, and hairy men with potty mouths!
He fell in a 5ft hole.
He fell on his back. His left elbow and knee shattered. Severe damage was done to his neck and back.
He came home a month after his accident. That was just the beginning of many surgeries and stays in the hospital.
I instantly became " Mommy " to a month old. Who had colic!
Making dinners, laundry, grocery shopping.
By week two of dealing with running a household at only 16, I was breaking! It was somewhere after bedtime and before Sienna's middle of the night feeding that made her wake up a little earlier then expected. Crying of course. Me trying to feed her and her not wanting to eat.
Is her diaper wet, maybe dirty?
No!
Do you have a bubble in your tummy?
Why are you crying?
-
Im exhausted
.
We cried together! Salty tears streamed into my mouth and I didn't care.
I wished for things to be the way they were.
I remember watching the clock that night and seeing hour after hour go by.
All the while, Sienna slipping in and out of sleep.
Between then and December, we had flown through our savings. There wasn't enough for Christmas. Through the years of shopping at the same grocery store we had become friendly with a couple of the managers. I knew I could easily get a job there. Since I was finished with school, I could work full time. Thats exactly what I did. Every pay check for two solid years was given to my Mom. No questions asked. Eating chicken 40 different ways because-- like my Mom would say " its cheap! "
Or a night "eating out" would be Taco Bell. The most exciting thing we could order was a bean and cheese burrito with sour cream. But that was kind of pushing it because it was 15 cents extra for the sour cream part!
Our insurance being cut off.
My Dad still in and out of surgeries and the hospital.
Too many things going on for me to ever question or doubt that me
contributing to the family pot was wrong.
In my opinion, it wasn't.
I was turning 18 and as every Friday went, I came home from work and gave my check to my Mom. She handed it back to me and shared that her and my Grandparents decided that she should come and work for them. They owned a marina in the Harbor. Growing up thats where most of my summers were spent. My Grandma decided she wanted to retire and trusted that my Mom could run the place.
It would help them. It would help us.
Good for everybody!
$222
Later in the night I slipped $200 into my Mom's purse.
The rest of it was spent on a pretty floral shirt from Forever21 that I ended up wearing for my
senior portraits. ... and a snickers bar!
Short years later we celebrated my Mom's birthday, without her. She would have been 43.
***
On this journey of mine I am learning that the
Little Things
, ...
...
The Little Things all add up to one great big thing.
It may not be perfect. It may not always be nice, or great!
There will be days your baby catches the flu and you reek like vomit. Your hair is greasy and the house is a wreck, but how can you shower or clean when your chasing around a 2 year old who doesn't know how to throw up in a bowl? But, the one you love. The one you call " my husband. " He walks in and kisses your neck and tells you your beautiful. Although the stench coming from the shirt you wear would make anyone else gag!
The Little Things
? Lets talk about that! Let me write about that!
My husbands laugh. Oh! Its food for my soul. I love hearing his deep belly laugh. His smile is radiating. Its like when the sun is coming up and taking over the shadows from the night. His smile and laughter is contagious and inspiring. No matter where your at, if you hear it. Or see it.
You'll join him in his moment of pure happiness! I promise!
The way Savannah will perfectly fit her little head in the crest of my neck. Remembering doing the same thing with my Mom. Its comfort. Its the smell. My Mom always smelled like baby powder. When she died, I crawled into the bed she was laying in and went right back to that place of perfect. Being a small child and having no care or worry in the world. Just knowing love. Knowing " happy!"
Only I was now 22, it was my birthday, and I was doing it for the very last time.
Now, I'm 27. Married. Two babies in and I'm on the giving end of the neck love. Offering the ultimate place of comfort and "give all your worries to me. Leave them in my neck!"
I wonder if I smell like baby powder?
Cole's kisses. Sweet. They always seem to taste like peanut butter. Even when I know he hasn't had it that day. Magical!
Or being in a deep sleep and waking to the sound of his pitter patter feet on the hard wood floor, making his way to our bed in the middle of the night. He always has his pillow and bear.
He never fails to whisper "
Hi Mommy
!"
Heart melting!
"
Hi Baby
!"
Returning home from your vacation and slipping your favorite night gown on. Mine?
Its simple perfection! Its white. Cotton. Flowery and pretty.
Its me!
My Mother-in-law gave it to me as a gift when I had our Savannah.
I have it sitting on the top drawer for every time we come home from a trip.
There is nothing like the smell of home and being in your favorite nighty after being away!
Icecream. There is no other food I love more then this amazing soft, cold, matter that always seems to make your worse day better! Sharing it with my boy after a hot day at Disneyland, this was one of my favorite moments in my whole life! Let me share this moment with you ...
Speaking of Disneyland - that hot day our icecream moment happened - the whole day was unbelievably perfect. I challenged myself to going solo with the babies.
Having every bit of faith that exists.. that I could " handle it."
I prayed the whole way there that it wouldn't be a absolute failure.
I wanted to proudly come home and say " I DID IT! "
"I DID IT! "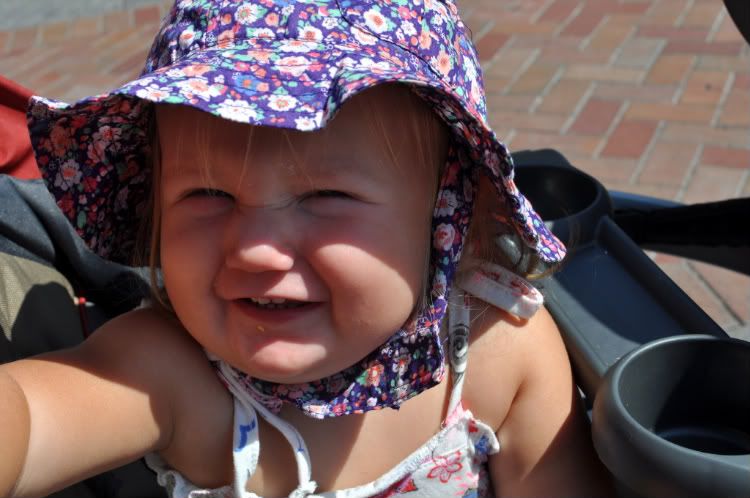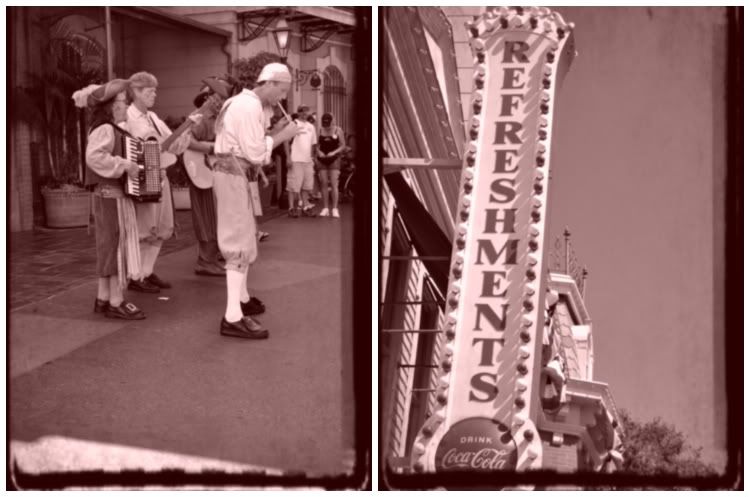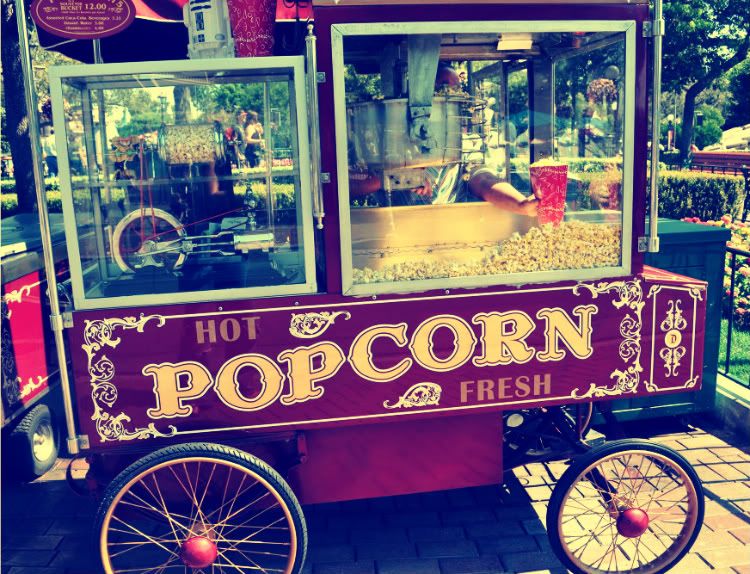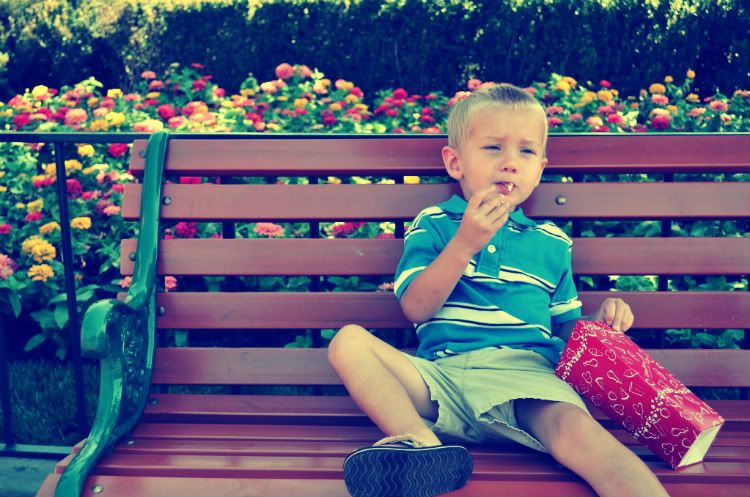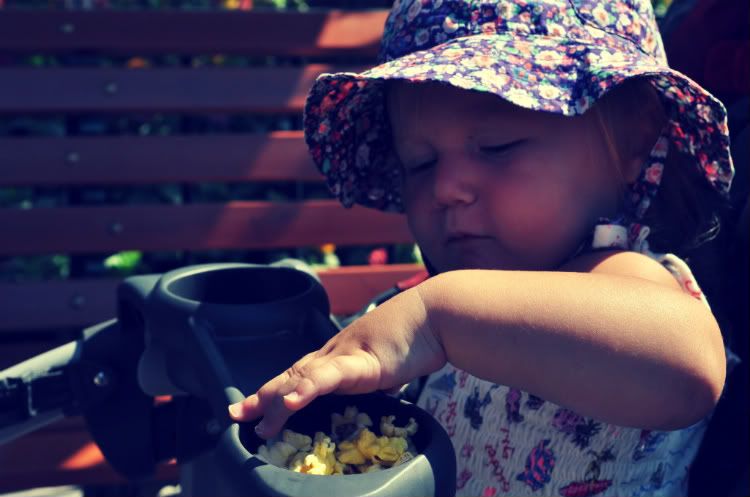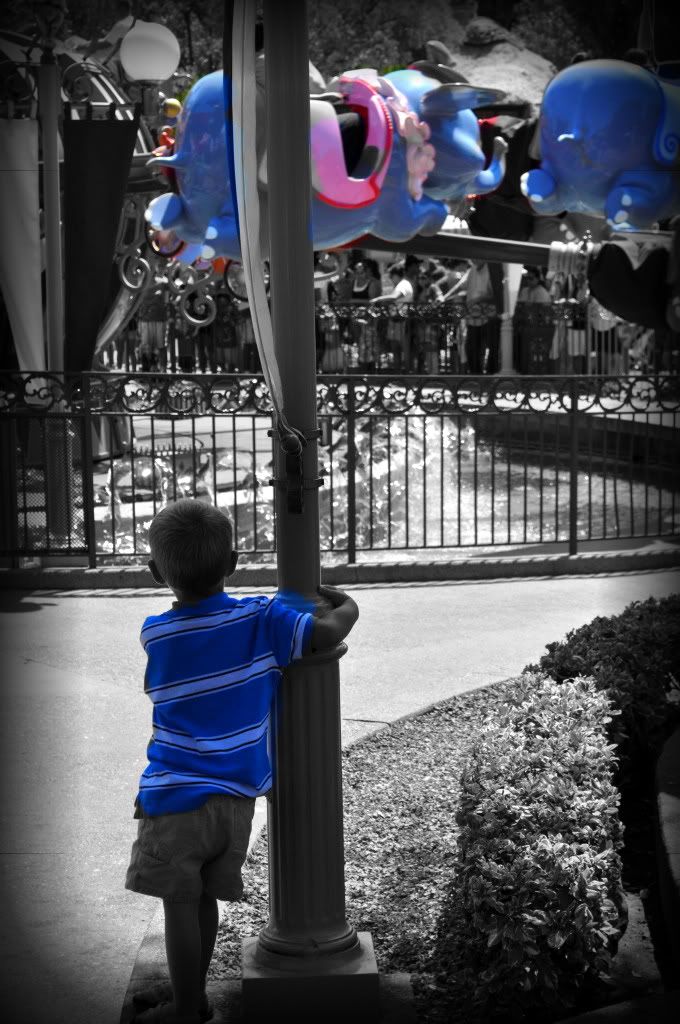 Town meetings.
Cole decided to lay out just a couple of toys from each of his favorites. When I saw it, I asked " Whatcha doing babe?! "
"They're talking! "
"Who's talking"
"Sisters blocks, my trucks, Mr. 8, the shark, and my cars. "
"
Oh! I see
! "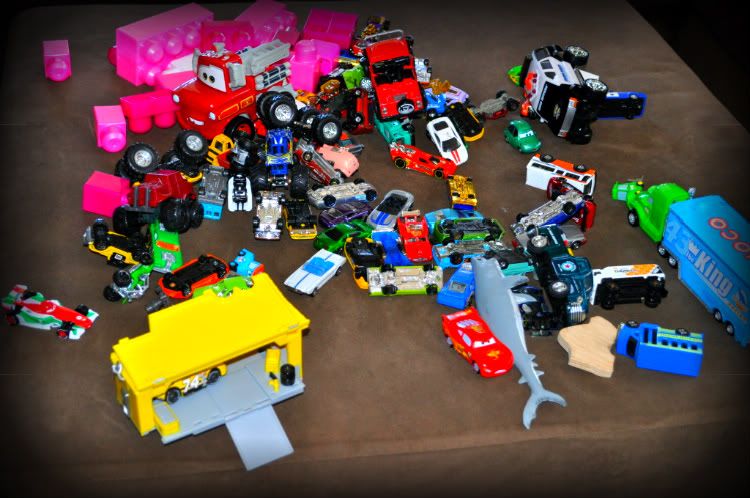 My sisters can attest to this memory.
When we were sick, my Mom was the BEST Mommy-nurse!
She'd give us a bath and braid our wet hair.
She'd make the best "sick bed " out in the living room.
She said "being in the biggest room of the house gave us more fresh air, and seeing everyone that felt good would make us feel better!"
We always had chicken soup, and a cool towel for our hot forehead.
Now I do the same thing for my sick babies. Its moments like these that keep her spirit alive!
Here my sick baby.>> Eat yummy chicken soup. Here is a cool towel. Watch your favorite show. Take a little medicine.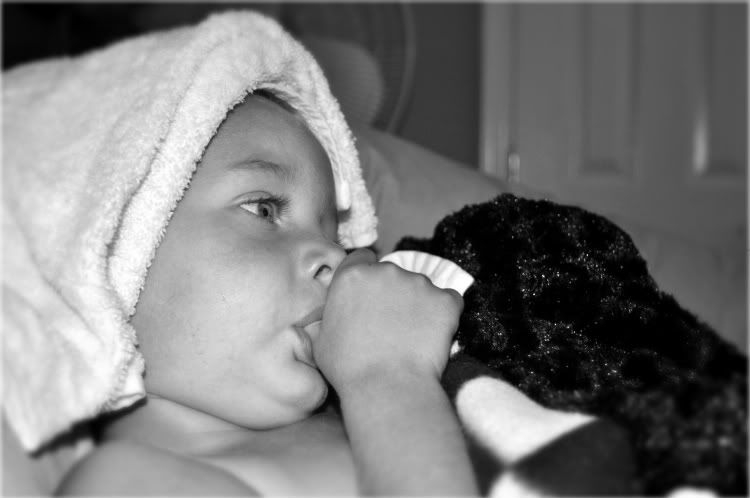 ((Thanks Mom! Thanks for teaching me how to be a good
Mom!))
Celebrating 'Labor Day' with family who we are privileged to consider "friends!"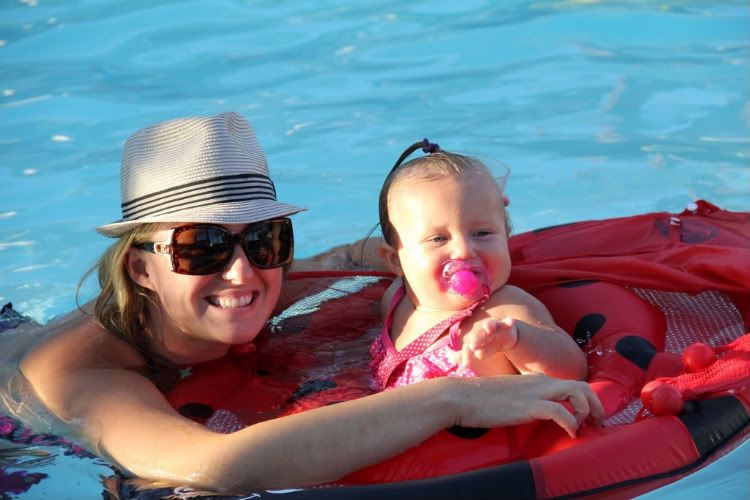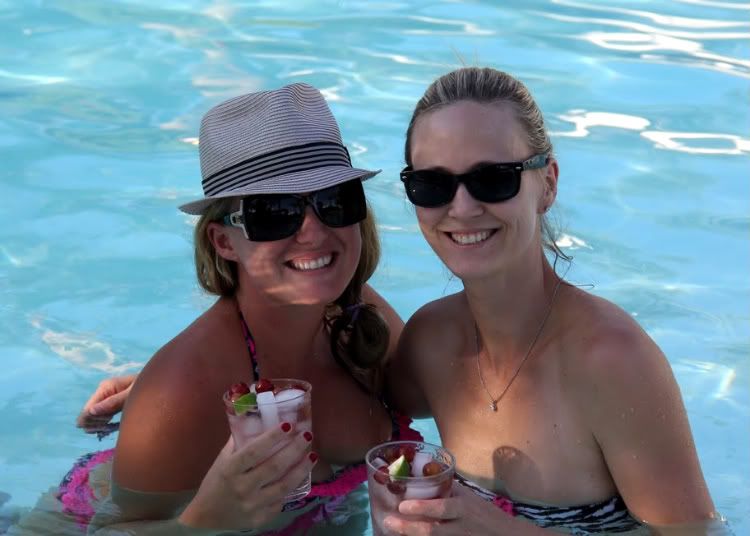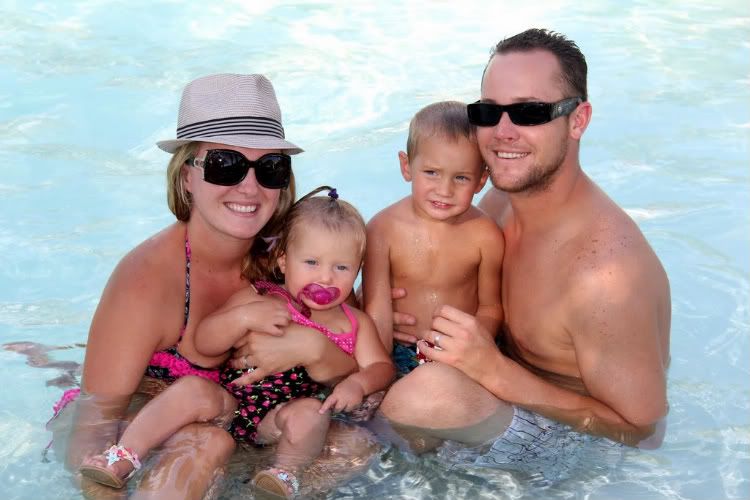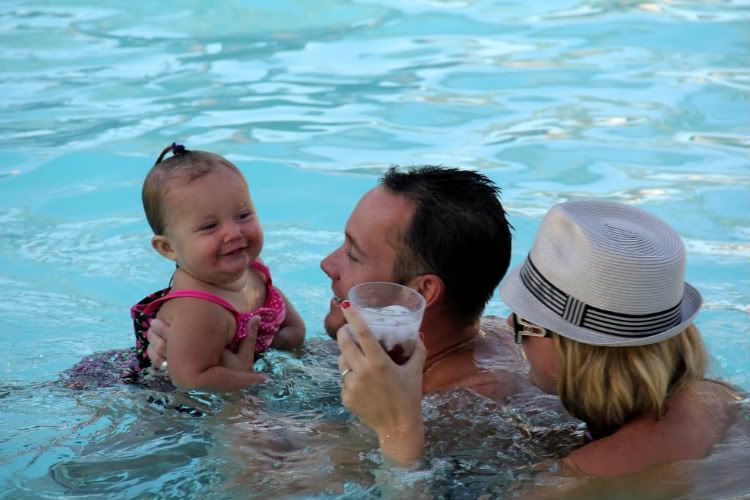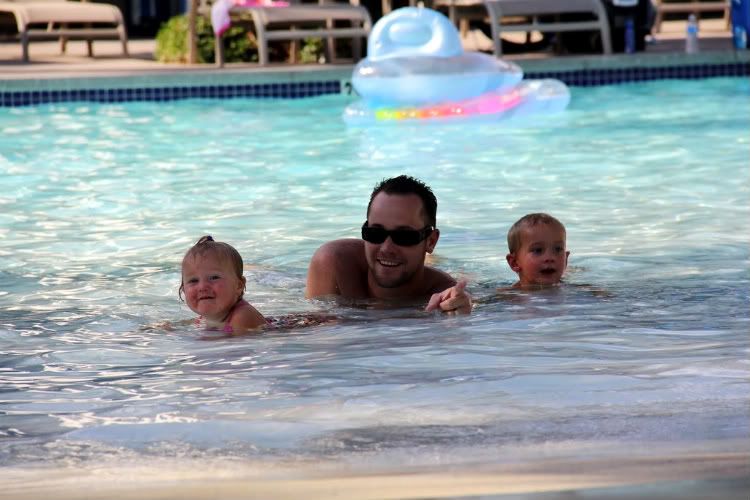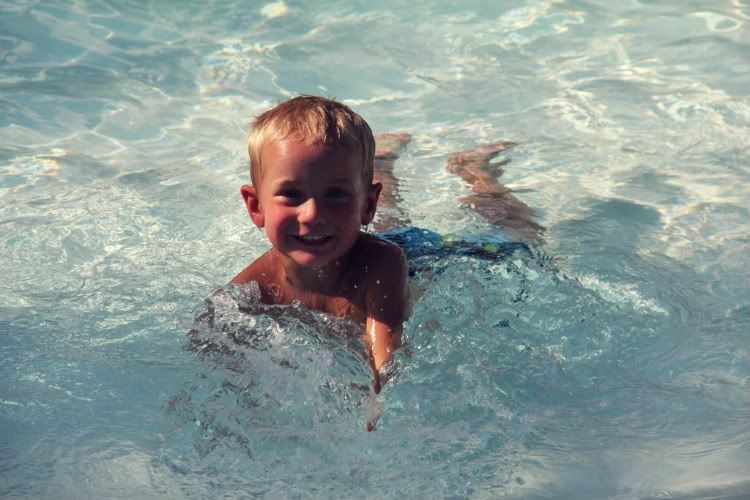 One more " Little Thing " that makes up for a really great life?
That makes my life great!?



*Silly faces!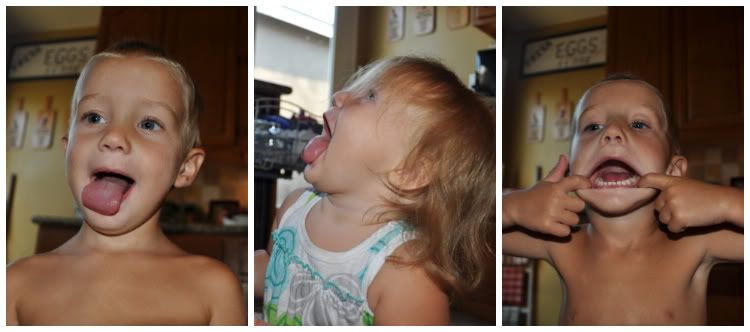 So, let me tell you!
My life is not ....
negative.

Its not bad.

Its human!

I have decided to share it with you. To write about it.
The good. The bad. The in-between moments that make us - US!

The FAB FOUR! The Wilkins Family. Husband and Wife. Friends. Lovers.
Mommy and Daddy.
Partners!
-Forever!




---Happy Birthday Mom! I hope I make you proud everyday!
Its the "Little Things " that remind us that although this life is short.....
........ its really good!



***


We hope you all enjoyed your weekend celebrating the fruits of your labors!
And, remember..
its the
" Little Things!" that always add up to something being really big.
Really special!
Really great!
=)