Since Savannah was about a month old, I have been bathing her and Cole together.
Its simply, easier.
Our routine has been the same since she's made her debut into our lives.
Going from a family of three to a family of four, there were certain things I thought could be done quicker and could be made a little more easier for me. Dual baths is one of the many!
Two birds with one stone - type of a thing.
The events following this dual bathtime have been the same for many, many months.
I get them out at the same time. Wrapping Cole in one of his three elmo towels.
If he's feeling adventurous, his froggie towel.
"Ribbit Ribbit " are words I can always count on being said after this towel is slipped on his clean, baby-self!
I lay them both down in Savannah's room.
Not on the changing table, of which - I have only started using just recently.
I'll share with you why!
Its always Savannah's room they are dressed in after our nightly bath routine because again,
simply, its easier.
Lotion
Powder
Diaper
Jammies
2x
Done!
This last week Cole has decided that he doesn't want to take a bath with his sister.
He wants to take showers, like Daddy. Everything is about Daddy.
'I want to wear deodorant like Daddy. '
'I want to put gel in my hair, like Daddy!'
'I want to do man stuff like.. Daddy.' - which he tells me girls don't do man things because its dangerous! Funny how at such a young age the man instinctual thing most men have has already kicked in.
Thanks babe!
So, as Cole finishes up dinner, I whisk Savannah into her solo bath.
...and its simply
- wonderful.
This solo bathtime of hers has turned into one of the only moments during the day that is just about
her
.
She splashes water, we sing, practice our ABC's...
all of the things I have always done with Cole, but now its just
her.
Now.. now we use the changing table.
She plays ' peek-a-boo' with her towel. We both giggle.
We go over where our noses are, and our mouths, eyes, and ears.
I kiss her lips.
<<< Talking about kissing....
she is starting to pucker her baby lips making the ' mmmmmmm' humming sound that lets me know she wants to kiss me!
Unless I ask otherwise.Usually saying " open that mouth baby of mine! Open that mouth! "
The lotion goes on, and somehow.. without having to ask her, we lock hands and her baby fingers slip perfectly into my Mommy ones. She giggles, and my heart melts.
I don't know what it is about these
lotioned fingers
that gets me everytime, but there is something so special about the idea of her hands being so small, innocent, and inexperienced.
Mine, the exact opposite.
But yet, again.. without having to ask her, she knows exactly what to do every time the lotion gets brought out!
Cole and I use to do the same thing. Its always been a little favorite of mine.
Somehow, in the process of trying to make things easier... I forgot.
I forgot about
lotioned fingers!
**Summer has finally met us, .. in September. The weather here in Southern California has been dreadfully hot. Those who live in other places would argue, but for us here.. its HOT!
Children have returned to school. The beaches are empty and the streets are a little less congested during the hours that don't include lunch time or after school and work time.
So, last week I deserted dishes, laundry, and everyother annoying household chore and we took off to the beach. We soaked in the sun, played catch in the water, ate cheetos without feeling guilty, built sandcastles, and found the biggest sandcrab I've ever seen in my life!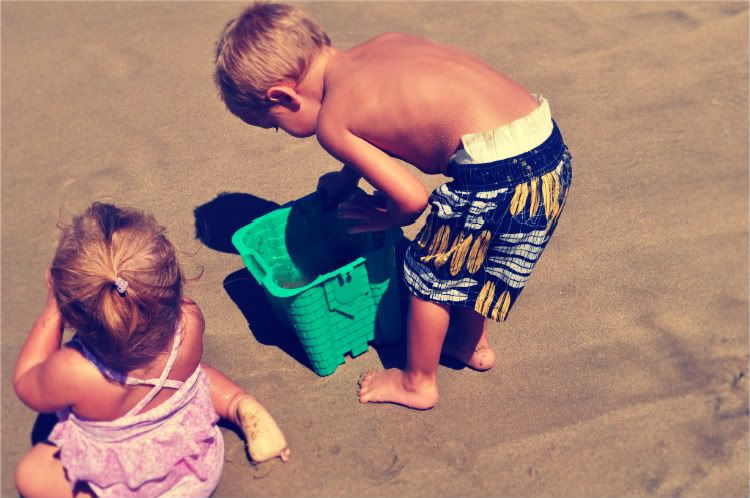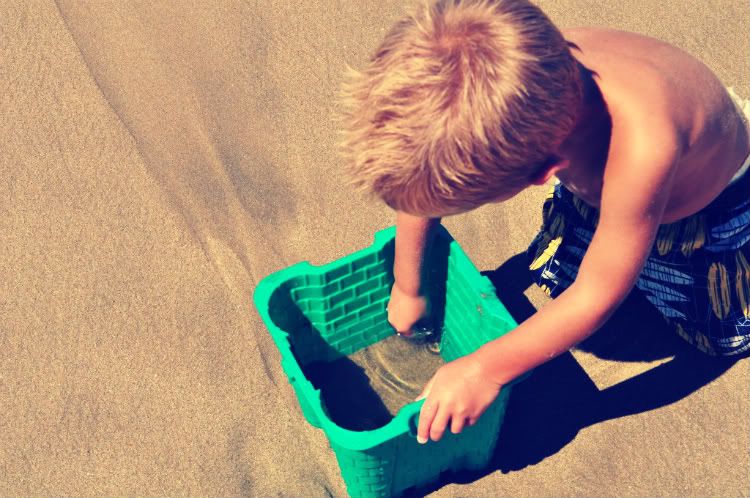 There is something about the beach that brings me peace. Sandy toes, hearing the waves, smelling the salty air, the cool water and the hot sun. Its all
simply wonderful
.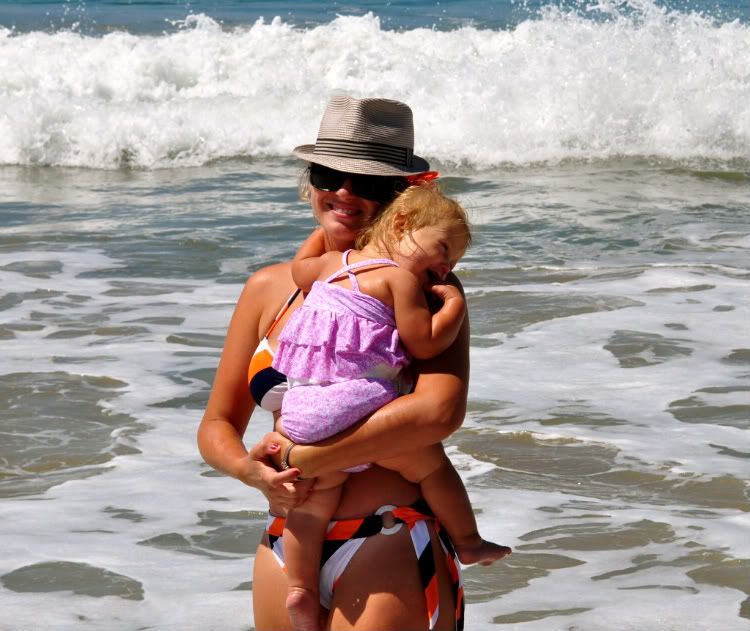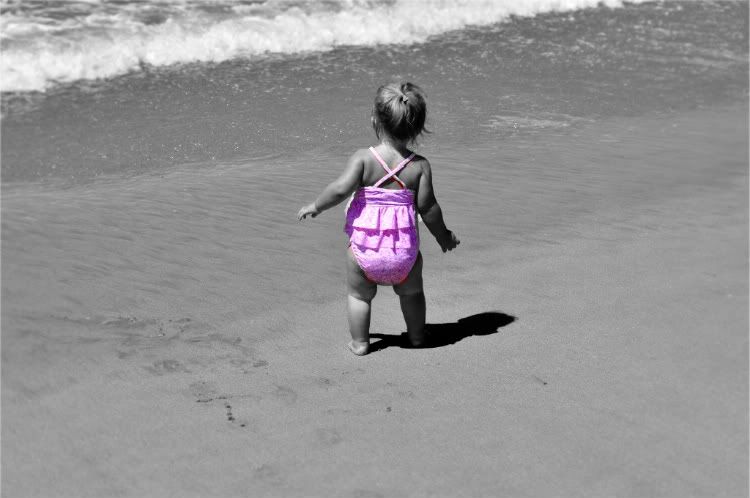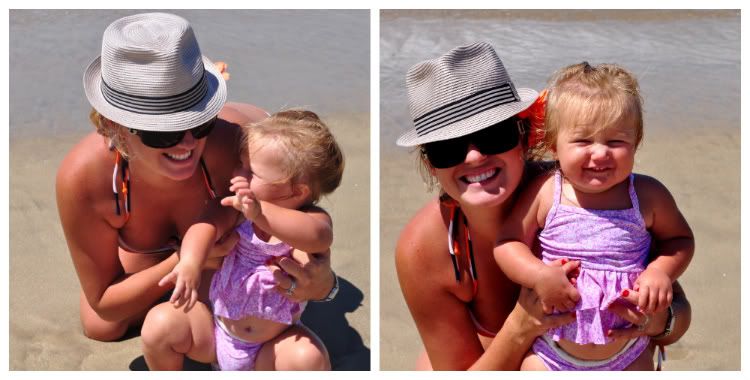 Taco Bell was for dinner, and meeting Daddy at home just in time before bedtime brought us the opportunity to tell him about Savannah's weird obsession with eating sand, and how Cole and Mommy played catch with a football in the waves!
When I was little, my Dad would surf every Saturday morning. I would beg him to let me go. To let me watch him. Most of the time, he'd agree.
We would wake early in the morning.
Before the sun would rise.
We'd always stop off at 7-11.
He'd get his coffee, me - a danish and milk.
We'd drive to whichever beach had the 'best break!'
It was always cold, no matter what time of the year it was.
I'd always wonder what it was about surfing in the morning that made it worth bearing the ice cold water.
(Later, I'd find out for myself!!)
I'd watch him wax his board, and every few minutes he'd look up at the water and point to where he thought the waves were breaking best.
He'd tell me about the shifts in the water and things you should always look out for.
"Rip currents, guys who don't know what they're doing.
Asshole locals who think they're bitchin!"
He would run into the water, jump on his board, and away he went. As soon as he got out to the place he thought he'd catch the best waves, he'd pop up his board, so I knew where he was. Every so often, he'd do it again and again, that way I didn't lose sight of him. He didn't know this, but I never lost sight of him! I always knew where he was.
I sat there, on the beach, every Saturday morning. In the cold, wrapped up in blankets, eating whatever was left of my danish and milk.
Watching my Dad.
Smelling the ocean air. Hearing the waves.
No matter how cold it was, I always took my shoes and socks off.
I wanted to feel the sand!
I wanted
sandy toes!
This was our "thing" before things went bad. Before his accident.
Its a memory I will forever hold in my heart.
So on days like today, on days that I spend with my babies at the beach.
The smell, the waves, the sun,
sandy toes..
it all brings me back to being a child.
Watching her Daddy be in the purest form of joy he called " his favorite thing to do. "
Be at the beach!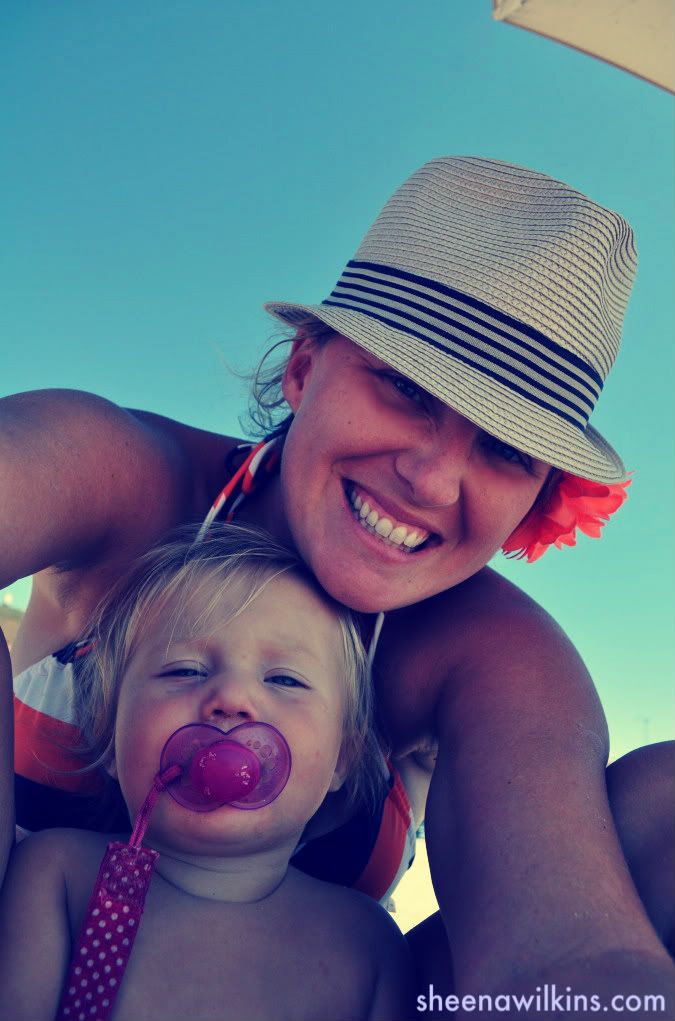 There are no greater days then the ones that bring last minute plans to the beach.
There is nothing better then gliding your Mommy fingers into your baby's while she giggles innocently!
*****
Oh! Guess what?! TWINS!
No! This doesn't belong to me. These precious little people growing, are not growing in me. Not in this belly!
But, some really great friends. They are the ones who are expecting this miracle.
Congratulations Marc and Monica.. and Reed and Eric. ( Yes, they have a three year old and a 10 month old. They will be busy! ) We are so excited for you guys.
These beautiful babies are due in April! ... and we can't wait!
****
Happy Wednesday to you, and you, and you!