I was quiet this week. Part writers block. Part, just joined a gym and was getting acclimated to a new schedule and routine. Another part - spending a little more time outside before the weather goes nasty. Paul working as much as he has these last couple weeks didn't give me much time for writing, and the time that was available was spent watching Friends. I've always loved that show, but lately I've become insanely obesessed. TBS showing two full hours which happens to fall in the same two hours the kids take naps, doesn't help me!
I constantly have so much to write about, that I have found myself babbling. Most posts I have written aren't published. You would all think I'm crazy if I exposed the real relationship the keyboard and I share. I love having the " save to draft " option, and I've been using it more and more. I'm babbling again.
Lets catch up, shall we?!
I left you last Friday. That night was spent around a fire drinking wine and watching kids play hide and go seek in the dark. We have contemplated selling our home and relocating. Having nights like these with great people who happen to be neighbors, makes those kinds of decisions really hard to make!
My most favorite season is approaching, making our mornings and evenings colder. There is nothing I love more then to be in my house, coffee in hand, looking out my window - knowing its cold outside. There is something about the lingering scent of brewed coffee, and the smell of my babies when they wake. Its home!
Last Saturday was all of what Saturdays should be. We stayed in our jammies for the better part of the morning! Somewhere along the way
we
decided that I should finish the gardening on the other side of the walkway. Yes,
" we "
meaning Paul .. and me saying
" not today!"
Him dragging me outside while saying
" you can't have one side with flowers and the other side, just dirt! "
I suggested putting a sign in the dirt that says
" Gardening halfway done because Mom inside has two small children!" -
" People will understand babe!"
It didn't work.
Gardening/plant cute flowers venture: COMPLETE!
Time: 6 months!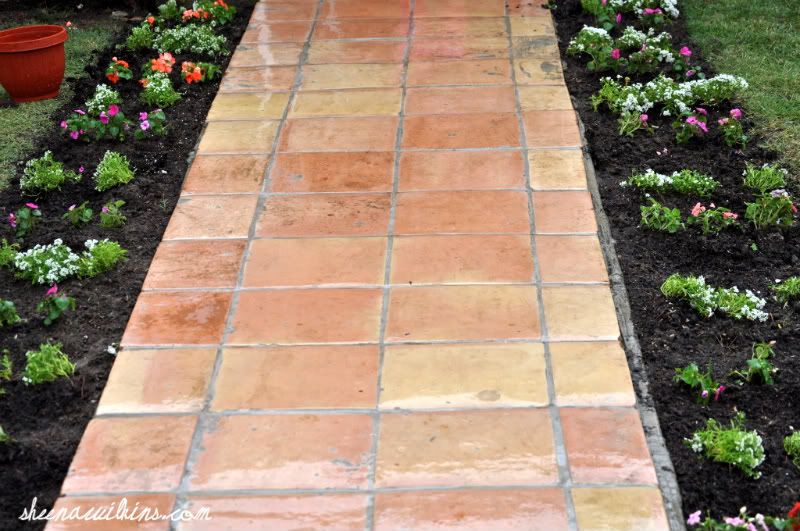 I was so on fire with this gardening venture, I planted some herbs and tomatoes!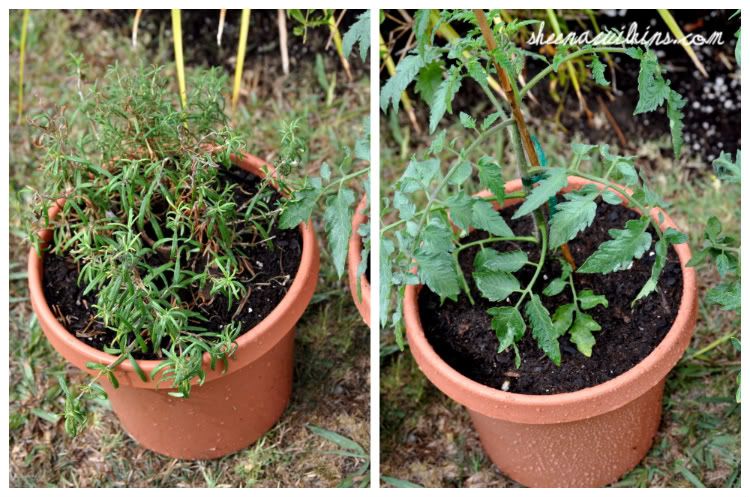 along the way these were some moments I was able to capture!
I've been tossing around the idea of returning to school. I've looked at a few different programs online. What I'd like to do would require a masters, maybe even a Ph.D.. so it would be a hard, long road. Wether or not I am willing and able to handle all that it would entail right now, I'm not sure.
A few nights ago, a conversation about stay at home Mommies vs working ones surfaced.
Things like " I go to work to keep myself from going crazy " and " we've lost what we use to have. Women taking pride in caring for their homes and families. It use to be a respected job "
..were just a few of the many opinions that were said.
My head spins around laundry, working out, making dinner, 'are they getting enough vegetables?' keeping the damn car clean ( trying to at least! Its a all time failure of mine ) and this blog of mine!
Not to mention, my husband's hours at work have quadrupled. Instead of being alone 70% of the time, I'm now alone 97% the time... and lets not forget that it took me over 6 freakin' months just to plant some flowers!
How could I ever fit school into that?
One of my more favorite bloggers specifically wrote about this whirwind schedule Mommies have, and how we keep it all together. If we do!
Most of the time, I'll admit - I don't
.
Its become such a hot topic that they actually made a movie about it,
of which - I can't wait to see!
"I Don't Know How She Does It?
It couldn't of been named more perfectly right?
How do we do it? Everyday! Day in, day out!
I grew up with a Mom who allowed everyone and everything become more important then herself. Thats what I thought was normal. Thats how I thought things should be done, although deep down I knew it wasn't right. I just assumed I was more selfish and self centered then most.
Until I became a daily viewer of Dr. Phil! I've listened to him over and over again explain that a child's most important role model is the same sex parent. More specifically, in regards to women and daughters - you, as the Mother.. have to put yourself first
sometimes
.
Taking care of yourself.
Being healthy-physically, emotionally, and spiritually.
Bottom line, all of the above requires you being selfish.
Maybe, if my Mom were a little selfish.. she wouldn't have died at 42!
The Escape?
Don't get me wrong! I love my life. But sometimes,
sometimes I have to escape.
Sometimes, I
need
to escape. Its like any other job in life. You have days off. You get a break.
This Mommy thing - the Mommy job.. there is no break.
There is no clocking in, clocking out.
Could you imagine ... your three old crawling into bed with you at 3am,
saying " Mama, I'm thirsty."
" Sorry baby, my shift doesn't start for another three hours."
This is a 24 hour, 7 days a week, all the time no matter what - kind of job.
Its a one of kind, no other like it, kind of job!
Sometimes the escape might be
not
doing the laundry for the day, or eating PB&J sandwiches for dinner, because ----- its simply easier.
There have been times I have felt really guilty about keeping up with this blog of mine, until this blogger that I love said " sometimes I put Little Bear on for the kids while I finish up my writing."
- So walking away from the kids for a little writing time.. isn't neglect?!
Maybe its a bubble bath with wine and book.
Maybe its Friends during naptime!
Every couple of weeks,
my escape
is getting my nails done with Jenica. Of which, has turned into such a joy of mine. Yes, I still feel guilty .. especially since these days Paul's time at home is far and few between, so me being away when he is around might seem, wrong.
But - truthfully... its makes me better.
That time away, that time alone.. makes me better.
Its makes me a better wife.
A better Mom.
These are two top priorities, and for most of the time, they are at the top.
But - I have to put myself above these two top priorities at times.
So I can be better.
Being the best I can be, is the most important priority!
So
The Little Things
don't fall between the cracks.
Like...
Drawing chalky streets for cars.
Telling Baby to not eat chalk. Yes, the same baby who loves to eat sand.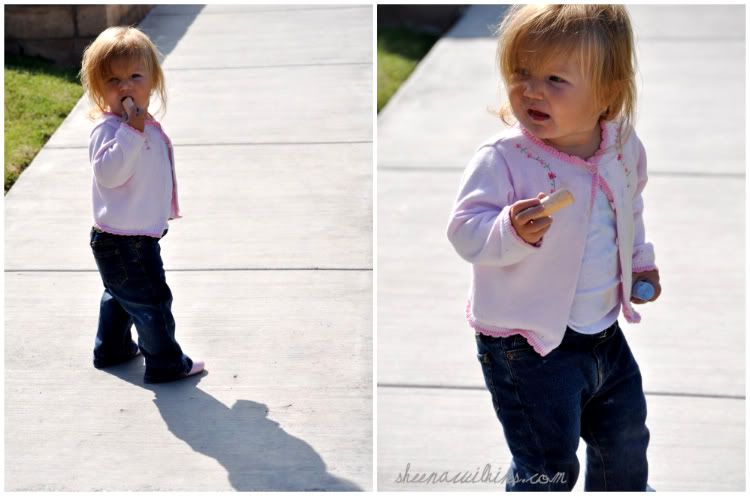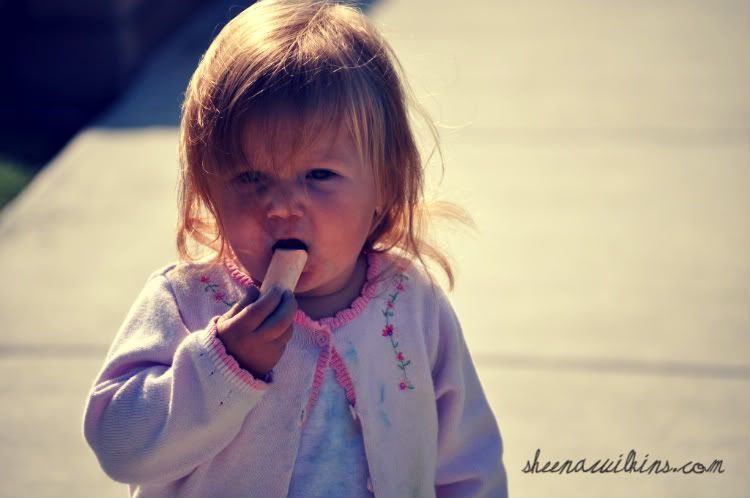 But, it doesn't take away from her cuteness!
Peek-a-boo!
This same baby has learned that if she plays Peek-a-boo when she is getting caught doing something bad, it detours her from being corrected.. because it makes Mommy giggle. How can Mommy be serious when she is giggling? .. and how can Mommy be serious when Baby is so cute!?
Find your escape.
Be in the escape. So you can be better!
Happy Saturday =)
xoxo