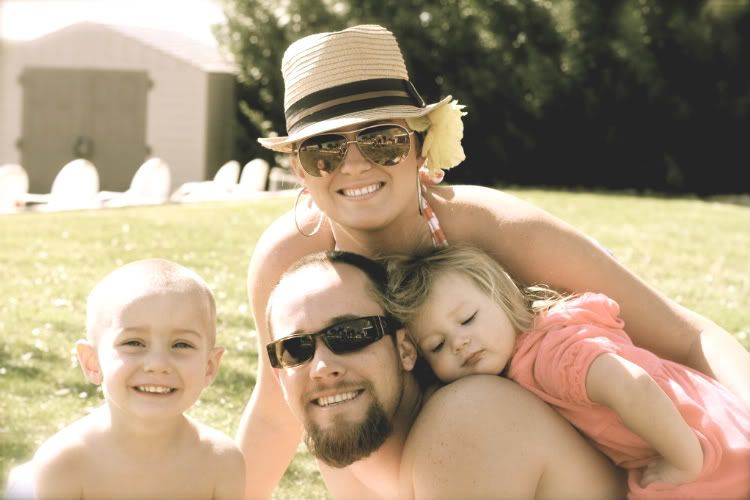 "Happily Ever After" began in 2007 when I married my husband.
It was a way for keeping track of little moments in our lives and keeping our loved ones in touch with us. It has since evolved into a way of telling my personal stories through words and pictures.
In August of 2010 it was renamed " loving the little things! "
I will share with you why!
I'm a Mama to two babies. One is Cole Michael who is three. The second is Savannah Marie who is one. They are my loves, my life, and the core to my soul. They are the reason I try to be better everyday.
Paul and I have now been married for almost five years. We live in sunny Southern California.
His job is very demanding and his current position requires him to give very little to me and the kids. Somedays are easier then others. For the most part, I get by with my postings, cheap wine, and taking pictures. I use to paint.. I think I might start again.
In between making believe that dinosaurs are chasing us, dressing baby dolls, racing matchbox cars, and building castles and barricades for GI Joes.. I try to keep up with the laundry, but it seems to always win. I try to work out.. but sometimes thats defeated because lets be honest - making macaroni and cheese and cookies through out most days, isn't exactly easy to smell the deliciousness and tell myself " just one bite " which always seems to turn into way too much! Gardening and baking are some favorites of ours, and visiting the ZOO and Disneyland don't happen as often as they should, according to Cole. Every once in a while I get to sneak away with my bestfriends for a few hours, and if I'm REALLY lucky, a weekend.
Picture Taking has always been something I really enjoy. Capturing moments that we may have forgotten about if it wasn't for this magical thing called " photography." I am anxious, excited, and so proud to have something I can call " my own! " Its a work in progress, and 2012 is going to be a great year for me!
These are just a few of the " little things " I enjoy writing about. I have realized that its all of these very " little things " that add up to one great big thing. That is love. Its our life, our story. This is where I share it. Some with people we love who live really far from us. Some live close. Some are complete strangers. Thats the exciting part. People who check in with us, and we don't even know who you are!
Thank You!
I have a lot dreams, and I'm learning I'm the only one who is control of seeing them through.
If I can inspire even ONE from this space of mine-- to be better. I have succeeded. That ONE might be my baby girl one day. If not, at least its a tiny window into my heart.
-S